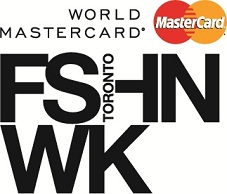 (03/24/2015) We are really excited for the first full day of World MasterCard Fashion Week. On Day 2 we start off with the introduction of Helder Diego formally BLAK.I. The day continues with four runway shows from NARCES, VAWK, Mélissa Nepton, and David Dixon. We are huge fans of all the brands showing on the runway. Each runway show will be for the strong, bold and effortless modern woman of today.
Helder Diego (5:00 pm) – Designers Diego Fuchs and Helder Aguiar are bringing their womenswear brand to the tents for the first time.
NARCES (6:00 pm) – This season NARCES Designer Nikki Wirthensohn will feature a collection using lace and mesh in gold, black, red and silver.
VAWK (7:00 pm) – The Project Runway Canada winner is back showing at the tents with his FW15 Collection.
Mélissa Nepton (8:00 pm) – This Montreal native is back with her FW15 collection inspired by a Romantic Warrior. Think strong bold looks for tonight's show.
David Dixon (9:00 pm) – The night ends with the 20th Anniversary Collection of David Dixon. In our eyes on of the pillars of the Toronto Fashion Community.
For more information on World MasterCard Fashion Week : worldmastercardfashionweek.com
Follow on Twitter: @WMCFashionWeek
Follow on Instagram: @WMCFashionWeek
For more looks and where to purchase: helderdiego.com
Follow on Twitter: @helderdiego
Follow on Instagram: @helderdiego_official
For more looks and where to purchase: narces.com
Follow on Twitter: @_NARCES
Follow on Instagram: @_NARCES
For more looks and where to purchase: vawk.ca
Follow on Twitter: @VAWK
Follow on Instagram: @vawkcollection
For more looks and where to purchase: melissanepton.com
Follow on Twitter: @Melissa_Nepton
Follow on Instagram: @Melissa_Nepton
For more looks and where to purchase: daviddixon.ca
Follow on Twitter: @daviddixoninc
Follow on Instagram: @daviddixoninc
Remember to find out the latest on World MasterCard Week: Click Here