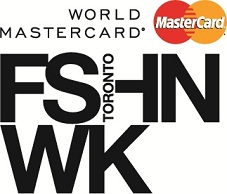 (10/20/2014) Let the fun begin!!! Today is the start of World MasterCard Fashion Week SS15. The first day starts of with 4 shows that kick the week into high gear right from the start. We start the night with designer Sid Neigum, who has grown and developed each season to be one of the shows we always are interested to see what he is going to next. In addition to the Mercedes-Benz Start up is back giving support to emerging Canadian Designers. Finally two of the biggest brands in Canada will helping lead the charge for Canadian Fashion with Pink Tartan and Joe Fresh.
Sid Neigum (6:00 pm) – Once again Sid Neigum will be going in a new direction with his SS15 Collection that will use laser cut patterns.
Pink Tartan (7:00 pm) – Is helping to lead the charge for Canadian Fashion with it's classic and sophisticated style for SS15
Mercedes-Benz Start Up (8:00 pm) – The Fourth annual MBSU will bring the best emerging designers in Canada to the runway for the National Grand Finale.
Joe Fresh (9:00 pm) – Helping lead this charge is Joe Fresh, we always are interested in the style and color palette each season. We know this season will not disappoint.
For more information on World MasterCard Fashion Week : worldmastercardfashionweek.com
Follow on Twitter: @WMCFashionWeek
Follow on Instagram: @WMCFashionWeek
For more looks and where to purchase: sidneigum.com
Follow on Twitter: @SidNeigum
Follow on Instagram: @SidNeigum
For more looks and where to purchase: pinktartan.com
Follow on Twitter: @PINK_TARTAN
Follow on Instagram: @PINK_TARTAN
For more looks and where to purchase: mbstartup.com
Follow on Twitter: @MBStartUp
Follow on Instagram: @MBStartUp
For more looks and where to purchase: joefresh.com
Follow on Twitter: @JoeFresh
Follow on Instagram: @JoeFresh
Remember to find out the latest on World MasterCard Week: Click Here