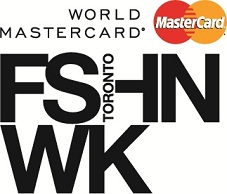 (10/22/2013) Day 1 is in the books and the week has gotten off to a great start. Now we are getting ready for a packed day. We have 7 that is right 7 exciting shows as we move into the meat of the World MasterCard Fashion Week Schedule. We are excited to see veterans like Mélissa Nepton and Sid Neigum. Also, we are ready for the debuts of designers Tatsuaki and JNBY to the World MasterCard Stage. Below is a complete rundown of today's shows:
TATSUAKI (3:00 pm) – We are looking forward to seeing how this Canadian Designer blends his cultural elements into his collection for this season.
Laura Siegel (4:00 pm) – Each season the Laura Siegel Collection draws inspiration from the world around her, what elements will be drawn from this season?
Travis Taddeo (5:00 pm) – From day one we have been big fans of this talented designer and each season we look forward to his collections and collaborations.
JNBY (6:00 pm) – After a successful show in New York JNBY, is ready to show its Womenswear Collection for World MasterCard Fashion Week SS14.
Mercedes-Benz Start Up (7:00 pm) – Last season DUY took home the coveted runway show for World MasterCard Fashion Week. Who will be next in the line of great emerging Canadian Designers?
Mélissa Nepton (8:00 pm) – It has been another exciting year for Mélissa Nepton after winning the Target Emerging Designer Award Nepton will present her Spring/Summer 2014 Collection tonight.
Sid Neigum (9:00 pm) – A local fan favorite, will it be all womenswear tonight or will we get a taste of menswear again this season?
For more information on World MasterCard Fashion Week : worldmastercardfashionweek.com
Follow on Twitter: @WMCFashionWeek
For more looks and where to purchase: tatsuaki.com
For more looks and where to purchase: laurasiegelcollection.com
Follow on Twitter: @Laura_Siegel
For more looks and where to purchase: travistaddeo.com
Follow on Twitter: @TRAVISTADDEO
For more looks and where to purchase: jnby.ca
Follow on Twitter: @JNBYCANADA
For more looks and where to purchase: mercedes-benzstartup.com
Follow on Twitter: @MBStartUp
For more looks and where to purchase: melissanepton.com
Follow on Twitter: @Melissa_Nepton
For more looks and where to purchase: sidneigum.com/
Follow on Twitter: @SidNeigum
Remember to find out the latest on World MasterCard Week: Click Here