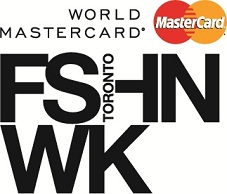 (3/27/2013) The Final Day of World MasterCard Fashion Week was a BLAST literally. With a talented group of young designers showing in the afternoon and a collection of heavy hitters on site and off site. The Team was stretched over the city, but we saw and covered it all. The elegance and drama from the gowns will surely be scene on red carpets in 2013.
Lacerda(2:00 pm) – This talented young designer took his experience working with LINE Knitwear and made his World MasterCard Debut.
Travis Taddeo(4:00 pm) – For FW 2013 Travis brought his dark edgy style, with the addition of sheer and leather elements in this collection. All Black Everything!
Thomas Bálint(5:00 pm) – Giving traditional looks a modern twist, along with showing a hard edgy with the use of Doc Martin boots.
Caitlin Power(6:00 pm) – This season saw a stronger darker collection from Caitlin Power. It still had well tailored pieces with her signature futuristic elements.
Stephan Caras(7:00 pm) – I saw a sample of his work on one of the morning talk shows. Ummm…His collection went from nice to WOW!!! Classic pieces with amazing details.
Lucian Matis(7:00 pm) – Lucian Matis is always an event. This season was no different. Volume was theme throughout the collection with a simple, white, tan, grey, and black collection.
Pavoni(8:00 pm) – It was great to see Pavoni close World MasterCard Fashion Week FW2013. They brought all the Red Carpet glamour they have become know for and then the bling falling from the ceiling to end the show was a fitting ending from Pavoni
For more information on World MasterCard Fashion Week : worldmastercardfashionweek.com
Follow on Twitter: @WMCFashionWeek
Follow on Twitter: @VLacerda_
For more looks and where to purchase: travistaddeo.com
Follow on Twitter: @TRAVISTADDEO
For more looks and where to purchase: thomasbalint.com/
Follow on Twitter: @THOMAS_BALINT
For more looks and where to purchase: caitlinpower.com/
Follow on Twitter: @CAITLINPOWER_HQ
For more looks and where to purchase: lucianmatis.com
Follow on Twitter: @lucianmatis
For more information: stephancaras.com/
Follow on Twitter: @StephanCaras
For more looks and where to purchase: pavonicollection.com
Follow on Twitter: @PAVONIofficial
Remember to find out the latest on World MasterCard Week: Click Here