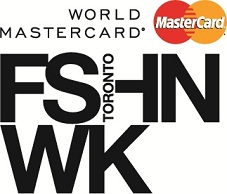 (3/20/2013) We have hit the midway point for World MasterCard Fashion Week. Despite the weather the runways have been HOT with great Fall/Winter collections. I feel today will be the same with this line up.
Christopher Bates(4:00 pm) – This will be the first time menswear designer Christopher Bates will be showing his menswear collection at World MasterCard Fashion Week.
Matis by Lucian Matis(5:00 pm) – This Project Runway Canada alumni is back with his Matis by Lucian Matis line. Young and sophisticated are two words to describe the Matis by Lucian Matis.
Ashtiani by Golnaz Ashtiani(6:00 pm) – This young designer always brings modern clean style to the runway and we expect the same for FW13.
Korhani Home(7:00 pm) – The energy and creativity that is brought to the tents each season is second to none each season from Korhani Home. Remember carpet can be fashionable too.
Mackage(8:00 pm) – Excitement is building around the Mackage brand as they launch the Mackage handbag collection for Fall 2013.
Joe Fresh(9:00 pm) – With the successful launch of the Joe Fresh line through JC Penny, Joe Fresh is back to World MasterCard Fashion Week for his FW 13 collection.
For more information on World MasterCard Fashion Week : worldmastercardfashionweek.com
Follow on Twitter: @WMCFashionWeek
For more looks and where to purchase: christopherbates.com
Follow on Twitter: @CBatesMenswear
For more looks and where to purchase: lucianmatis.com
Follow on Twitter: @lucianmatis
For more looks and where to purchase: ashtiani.co.uk
Follow on Twitter: @GolnazAshtiani
For more looks and where to purchase: korhani.com
Follow on Twitter: @KORHANIhome
For more looks and where to purchase: mackage.com
Follow on Twitter: @Mackage
For more looks and where to purchase: joefresh.com
Follow on Twitter: @JoeFresh
Remember to find out the latest on World MasterCard Week: Click Here