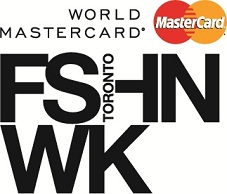 (10/19/2015) The start of World Mastercard Fashion week is only a few hours away from it's start. In addition to the start of Fashion Week we have game three of the ALCS here in Toronto. So before we give you a break down of tonights shows we have to show our support for the home town team. Let's Go Blue Jays!!!
Mikhael Kale (6:00 pm) -After model Gigi Hadid wore a custom piece for the cover of Elle Canada. Mikhael Kale is the right designer to start off World Mastercard Fashion Week SS16
Preloved (7:00 pm) – To celebrate the 20th Anniversary of Preloved, they will present three collections to mark their 20th Anniversary on the World Mastercard Runway.
Matthew Gallagher (8:00 pm) – Matthew Gallagher is back tonight with his collection inspired by the work of artist Dustin Yellin.
Sid Neigum (9:00 pm) – After presenting his collection in London as one of four winners of the DHL Exported program. Sid Neigum is ready to close out the night with his Spring / Summer 16 Collection.
For more information on World MasterCard Fashion Week : worldmastercardfashionweek.com
Follow on Twitter: @WMCFashionWeek
Follow on Instagram: @WMCFashionWeek
For more looks and where to purchase: mikhaelkale.com
Follow on Twitter: @mikhaelkale
Follow on Instagram: @mikhaelkale
For more looks and where to purchase: getpreloved.com
Follow on Twitter: @prelovedtoronto
Follow on Instagram: @prelovedtoronto
For more looks and where to purchase: matthewgallagherstudios.com
Follow on Twitter: @Official_MJG
Follow on Instagram: @matthewgallagherofficial
For more looks and where to purchase: sidneigum.com
Follow on Twitter: @SidNeigum
Follow on Instagram: @SidNeigum
Remember to find out the latest on World MasterCard Week: Click Here